What's in my Mr. Zojirushi today? Veggie Miso Soup, Lentil/Brown Rice/Celery/Cabbage/Onion/Cranberry/Walnut Salad, Udon Noodles/Ginger/Shirataki Mushrooms and Black Grapes.
Mr. Zojirushi has become a bit of a cult. Look at all the good food people are putting in their Mr. Zojirushi Bentos on Flickr.
August 5, 2008 No Comments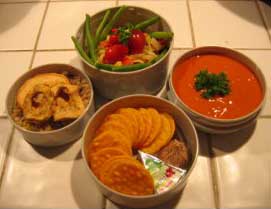 Are you horrified by how big people are getting? Being OCD in every bad way possible, I find myself watching men I pass and counting how many have jumbo breasts. I don't remember any other time in my life when so many men were sporting boobs. I'm not talking about a little softness. I'm talking about full blown racks of boob. This is not a good thing and it's probably a bad introduction to my topic of portion control.
When American companies first tried to market food to Japan, the Japanese didn't want it. I remember the cookie story. Think about the last package of cookies you bought in a snack shop. It was probably a large package containing two jumbo cookies. This is what Americans seem to like. They want big. It can taste like buffalo butt road kill but if it's big, we'll buy it and eat it. When this same type of cookie was marketed in Japan, the Japanese wouldn't buy it. After a bit of cultural education, the American company returned to the Japanese market with little cookies about the size of a half dollar. Bingo! They flew off the shelves. The Japanese concept of portion is very different from our own.
Many years after the cookie marketing success, our criminal fast food companies may have had their way with Japan's concept of portion control. They are becoming super-sized. Japan has one of the best health care systems in the world and they are attacking the bulge. From the Wall Street Journal Health Blog:
Anyone with a weight-related medical concern and whose waist is bigger than the acceptable size –- a rigorous 33.5 inches for men and 35.4 inches for women –- must lose weight, according to a new law. Otherwise, they face compulsory diet advice and follow-up visits for three to six months. For some perspective, the average male waist size in the U.S. is 39 inches, while American women average 36.5 inches.
I love this idea. I don't think it could ever happen here but it's needed much more here than it is in Japan.
I've found a simple way to benefit from the Japanese concept of proper meal portions. It's Mr. Bento from Zojirushi
. Mr. Bento is an insulated stainless steel jar lunch box containing perfectly portioned microwaveable plastic containers. If you follow the Amazon link, you'll see it's a bit pricey but you can get it for much less on Ebay. When I use this bento box system for my lunch, I'm able to effortlessly maintain control of my diet. The containers are the right size. Mr. Bento does not allow you to pack American size portions. It's small, efficient and keeps food either hot or cold. It's ideal for the bicycle commuter. It fits perfectly in a student back pack. My typical lunch in Mr. Bento is rice, Miso
soup, and two containers with fresh raw fruit or vegetables. It works. It's easy.
June 27, 2008 No Comments