About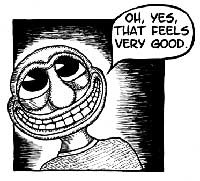 Moving Europa in one form or another has been around for about 12 years. It was originally on the domain eyebeater.com. This is where the Saint Eyebeat persona was created. I was reading a long string of books about medieval saints and mystics. The idea occurred to me that it would be interesting if someone decided to work at becoming a saint in the same way a modern person plans and works at a career. Thus, I wrote a great deal about removing and pickling body parts to be sold later as relics. Moving Europa was re-started on this domain and took on a new identity. It became a long rant about Bush and his criminal entourage. Our commandass in chief was driving me insane. I killed Moving Europa and emptied the database of all my entries. I spent my time building Google Adsense blogs and didn't maintain a personal blog. For whatever reason, it's time to resurrect this saintly endeavour. Bush may yet drive me insane. It's a constant battle.
I almost forgot. Most folks are curious about the origin of "eyebeat" or "eye-beater". It's really amazing what people have imagined. No one has ever gotten it right. My guess is that this says something about our reading habits. There is a poem by the late James Dickey titled "The Eye-beaters". This is the origin of the name. Here's a little explanation from the link above:
Two years ago, Poet James Dickey, whose Buckdancer's Choice won the 1966 National Book Award for Poetry received a letter from a friend who had visited a home for blind children and watched as they smashed their fists against their eyes to produce a momentary shock of light. Their agony tormented him so much that he wrote, in the November Harper's, a brilliantly brooding poetic fantasy, The Eye-Beaters. It was made particularly jolting because of Dickey's marginal notations, written with the stark understatement of a wire-service reporter. "A therapist explains why the children strike their eyes," the note explains as fact. Then:
They know they should see.

But what, now? When their fists smash their eyeballs, they behold no

Stranger giving light from his palms.

What they glimpse has flared

In mankind from the beginning. In the asylum, children turn to go back

Into the race: turn their heads without comment into the black magic

Migraine of caves. Smudge-eyed, wide-eyed, gouged, horned, caved-in, they are silent: it is for you to guess what they hold back inside.
It's a fascinating picture; blind children beating their eyes to see color. It's frightening as well because it is real.