Category —
Becoming a Saint
I'm thinking about blogging again and I can't think of a better way to begin than to share the Atheist Quote of the Day. This one is new to me and I love it.
"If it looks like shit, sounds like shit, smells like shit, is worth shit and all the evidence points towards it being shit: it's most definitely religion."– Bob Hope
Happy NFL draft day!
April 28, 2011 No Comments
The post I made about Padre Pio, the soon to be sainted fraud, is almost as popular as the Mash Cone. For all the pitiful Pio followers, I wanted to make a plug for a great book by Joe Nickell. It's called "Looking for a Miracle
" and it's available from Amazon. Nickell is a great writer and his books are a pleasure to read. Besides, who doesn't want to learn how to make their own weeping madonna statue?
June 11, 2008 2 Comments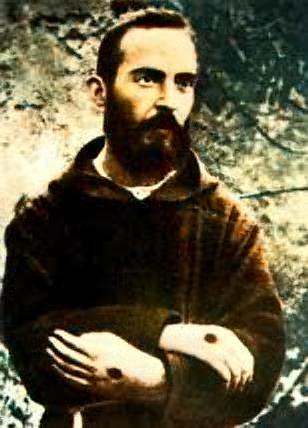 Once upon a time, a wacko claimed stigmata. He was examined by doctors and it was determined that the marks on his hands were chemical burns. People desperate to believe with minds muddled by magical thinking ignored this and decided Padre Pio was some sort of holy sumthin' or other. The stupidity continues today. From Reuters:
Padre Pio's body was exhumed from a crypt on March 3 and found to be in "fair condition" after 40 years. Since then, a team of medical examiners and biochemists has been hard at work preserving and reconstructing the body for display.

Its condition at the end of their work has been a closely guarded secret. Monks who have seen it were under orders not to talk to the media before it goes on display on Thursday at about 1 p.m. (7 a.m. EDT) after an outdoor Mass expected to be attended by at least 15,000 people.

About 750,000 people from around the world, mostly from Italy, have made reservations to view the body up to the end of December, according to church officials. About 7,200 people a day will file past the glass coffin.
Pio's refurbished corpse will be a sure money-maker. Tinkets, cards, photos, relics, etc, will all be available for purchase. Isn't it special. You can do this, too, with a little caustic and a little flesh.
April 23, 2008 14 Comments